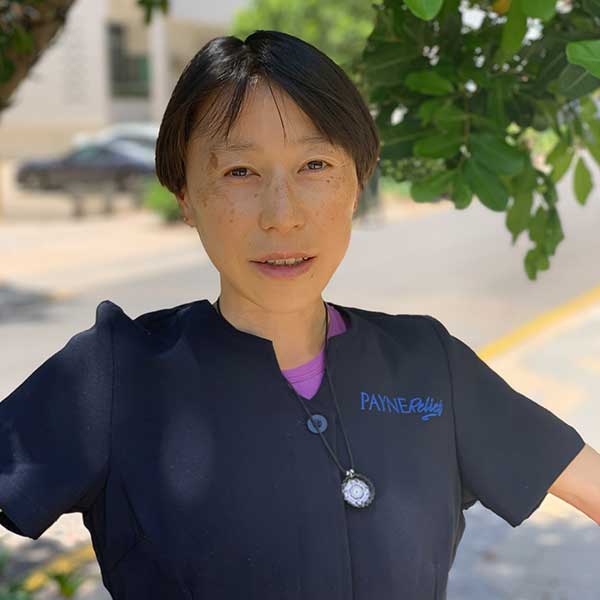 "I help clients in a wholistic path of facilitating the healing and survival the way the body was designed."
Ami Migita
Areas of expertise
Acupuncture, Chinese & Remedial Massage, Reflexology, Sports Therapies, The PAYNE RELIEF Method, The Niblett Technique.
Contact Ami
Originally from Japan, Ami has been practicing her craft since 2000. Ami made the move to Australia, working in Sydney before making her way to the Sunshine Coast in 2010.
Her expertise includes Acupuncture, both Chinese & Remedial Massage, Reflexology & Sports Therapies, and she is an exceptionally talented practitioner.
Ami's holistic approaches are effective for most of your bodily issues from musculoskeletal complaints to cellular and chi energy blocks.
Acupuncture treatment helps the body's natural healing process by treating ailments relating to internal organs and balancing your energies. 
Focusing on not only the area you feel the problem or issues, yet also looking at the body as a whole in order to detect and treat relevant areas of cause for a greater long lasting healing of wellbeing.
Ami also works with ancient techniques that have been gifted through time which will incorporate MOXA, TENS Machine, Cupping and GUA-SHA.
She had Niblett Technique training from our Master Troy Payne, and now incorporates the technique into her therapy when it is appropriate for your over all optimal healing.
Troy Payne
FOUNDER & TRAINER
Brock Favorito
SPECIALIST
What We Have
Achieved as a Team

Visit Us
03/29 First Ave
Mooloolaba,
QLD 4557
Australia
TRADING Hours
| | |
| --- | --- |
| Mon: | 6.45am - 7.30pm |
| Tue: | 6.45am - 8.30pm |
| Wed: | 6.45am - 7.30pm |
| Thu: | 6.45am - 6.15pm |
| Fri: | 6.45am - 6.15pm |
| Sat: | 8.30am - 3.00pm |
| Sun: | 9.45am - 4.00pm |
|   | |